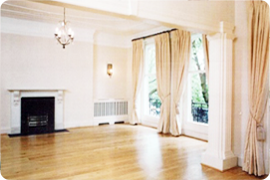 Cleaning at the end of a tenancy period is a very important task that has to be taken care of, in order for a tenant to receive their deposit back and leave the property without a problem. However, as the end of a tenancy contract is getting closer, a person realises that there are many responsibilities to be dealt with and many things to be considered. Having in mind the fact that cleaning is one of the most time-consuming and exhausting tasks of all when it comes to vacating a place, makes many people prefer to use the help of a professional cleaning company. But this is far not the only reason. Professional cleaners can cope with the cleaning tasks much more quickly and effectively, making a place look as clean as new. If you want to have your current home cleaned thoroughly before moving out of it, call us and use our end of tenancy cleaning services.
We are a reliable cleaning company, which has been operating in London for many years. We are one of the main providers of cleaning services, with our huge family of thousands of happy customers. We have a lot of experience dealing within the cleaning business, which has helped us to learn exactly what our clients want, so that we can provide them with it. That's how we have become a leader on the market. We can proudly say that we always manage to make our customers happy and see them enjoy our professional cleaning services. Our mission is customer satisfaction, therefore we do our best to offer the best services at the most affordable prices in the city. We believe that high quality should not be a luxury, that's why our prices remain low while our services constantly improve.
Why Choose Super End Of Tenancy Cleaners London?
What can be expected from our professional services is:
Affordable prices
Experienced staff
Friendly attitude
Flawless results
Perfect cleanness
Quick work
Biodegradable detergents
Latest equipment
Everyday availability
There are many advantages of using our professional end of tenancy cleaning services. Not only do we offer high-quality services, we also make sure everyone is able to afford them. We have an experienced team of motivated cleaners, who can cope with every cleaning task very quickly and achieve excellent results. We have chosen all of our employees very carefully in order to gather a team of the best professionals in London. Ideal cleanness is thus guaranteed.
Our cleaners are supplied with the latest equipment, which helps them complete their tasks even faster and more effectively. We work with high-class biodegradable cleaning products, all of which are absolutely safe for both the environment and your health as well. They are also harmless to the health of your pets. Our cleaning services are available seven days a week, including on weekends and bank holidays. You can call our customer support centre any time and have your questions answered by our friendly operators. Order our end of tenancy cleaning services and we'll arrive at a convenient for you time.
About us
Super End Of Tenancy Cleaners London is a professional company that specialises in the cleaning field. We have been delivering professional cleaning services for a wealth of years throughout which we have never failed to meet the requirements of our customers. We have built the throne for ourselves with hard work and commitment so we are definitely not planing on vacating it.
Each of our cleaning services is done with utmost care and attention to detail which is why so many people choose our company. Our aim has always been to satisfy our customers' needs no matter what it would cost. We are the company that places great importance on the mutual trust which is why our terms and conditions are absolutely transparent. What is even more, we endeavour to facilitate people's lives which is the reason why our rates are so affordable and competitive. Our company is levels above the competitors and each of our representatives is ready to prove it.
Cleaning Services
If you are a tenant who is about to vacate a rented property and you do not have the time to spare for the final cleaning, do not panic. What we offer you is to place your trust in our company and take advantage of our end of tenancy cleaning services. For plenty of years now, we have been delivering efficient and quick end of tenancy cleaning services to people from London. We take enormous pride in our achievements over the years and we cannot wait to show you ambitious we are. We are the people who can help you secure your deposit!
The added benefit of booking our service is that you will have more free time to do all the other important things like packing up your belongings or transferring them to the new place. Get in touch with us and we will put in place our cleaners. For your peace of mind, each of them is insured and trained. What is even more, they have access to top of the range cleaning equipment which is composed of environmentally friendly and safe cleaning products. The good news is that you do not have to pay through your nose for our service!
What is included in our end of tenancy cleaning
Bathrooms
Remove mould
Remove limescale
Remove stains from various surfaces
Remove hard water stains
Remove soap scum
Wipe mirrors
Clean toilets from inside and out
Polish sinks and taps
Clean basins
Descale shower heads
Wash floors
Clean cabinet fronts
Kitchen
Remove limescale
Remove mould
Remove stains from various surfaces
Degrease stoves
Polish sinks and taps
Clean cabinets, counter tops, drawers, shelves and any other surface
Empty trash bins
Throw expired food and drinks
Clean extractors and hobs
Sweep, vacuum and mop floors
Clean appliances such as toasters, microwaves, refrigerators, freezers, etc (inside/ out)
Wash windows
Bedrooms
Dust every single shelf and surface
Clean curtain rails
Vacuum blinds and curtains
Remove cobwebs
Dust tops of doors, handles and picture frames, too
Vacuum carpets, cushions and mattresses
Clean baseboards
Wipe mirrors and windowsills
Dust light switches, light fittings and lampshades
Clean bare floors
Dust TV/PC screens
Clean radiators
Clean woodwork
Clean plugs and other small objects
Clean inside and outside of wardrobes, cabinets and drawers
Windows
Remove stains and finger marks
Clean frames and windowsills
Vacuum blinds, curtains and shades
Cabinets, shelves
Get rid of forgotten items and belongings
Wipe handles
Clean entirely (inside/ outside)
Refrigerator/ freezer
Toss food leftovers
Clean handles, behind and underneath it, too
Polish
Furniture
Dust each and every piece of furniture
Vacuum cushions and sofas
Polish the woodwork
Dust shelves
After living in the very same house for over 3 years, I decided to move out of it and look for another one. Even though I lived there for such a long time, I never managed to get used to the neighbourhood. What was ever worse, the landlord was not among my favourite people in the world. I needed a professional cleaning company so he would like the condition of the property and would give me my security deposit back. Thanks to a friend, I found out about this cleaning company and got in touch with the call centre. It was very easy to schedule an appointment and I loved that the agent took his time to give me details about the cleaning procedures.
I could not stay in the house during the cleaning sessions so I came back home late in the evening. Wow! The results I saw did make my jaw drop. The bathroom made me the biggest impression. Grime and grout were long gone, the entire bathroom was disinfected and shined. Then I saw that the kitchen was sparkling, too, and the bedroom, and the living room. The cleaners definitely performed times better than I would ever have done. Everything was done in a way to exceed my expectations. What is even more, my landlord fell in love with the cleanliness as well. He even thought that I did it myself. What an imagination!
Everybody who is looking for affordable and reliable end of tenancy cleaning service, should not hesitate to take advantage of this company's. They are true professionals and know how to get a job done in the most effective manner possible. I was pleasantly surprised! I really appreciated the hard work from the cleaning team. Everything was spick and span.
End of Tenancy Cleaning Prices
One Bedroom Flat

from

£

139

Two Bedroom Flat

from

£

165

Three Bedroom Flat

from

£

189
If your carpets are trapped in soil and vacuuming alone does not help, you need to get in touch with us. We are one of the most trusted names in the carpet cleaning field and we offer fantastic carpet cleaning services. We have been around London for plenty of years and we have never stopped developing our skills. Luckily, we collaborate with expert technicians who are able to reduce the effects of wear and will treat high traffic areas to restore the natural, clean look of the piece.
Our carpet cleaning services can be booked all week round at economical rates. We use our own cleaning equipment so there is nothing to worry about. Let us prove to you that we are levels above the competition and make your carpets shine brighter than ever. We never compromise on quality so you can be sure that we will do everything within our powers to provide you with exceptional carpet cleaning session which will leave your carpets absolutely spotless. Our cleaners have keen eye for detail and will leave no stone unturned. Do not waste more precious time and get in touch with us right away. We cannot wait to hear from you.
I am not saying that I hate doing the chores around the household or I am not good enough at it but when it comes to carpet cleaning, I prefer to turn to a professional cleaning company rather than risking to damage the delicate fibres of my favourite carpets. As I did not know what exactly to expect from a cleaning contractor, I did a detailed research and I came across this company and I read several positive reviews which left me under the impression that the quality is beyond exceptional.
Since I did not want to pay through my nose for the service, I found this carpet cleaning service's rates extremely irresistible and my husband advised me to give it a go. I am so glad that I turned to them as the end results were breath-taking. To be frank, I could not find a single thing to pick on. Everything was fantastic. After the expert cleaners were done, my carpets looked as clean and fresh as never before. What impressed me most was that they used only safe and environmentally friendly cleaning products and I was not overcharged.
Carpet and Sofa Cleaning
Hallway/ Landing carpet

from

£

4

Living room carpet

from

£

25

Three seater sofa

from

£

45
Minimum call out charge £55
Don't you wish you had more free time for the people you love spending time with? But with leading such a fast-paced lifestyle and with so many responsibilities on your plate, it feels like the time is never enough? What about the domestic chores? Do you have enough time to them on a regular basis? What we offer you is to turn to our company and take advantage of our deep cleaning services. We will visit you at a convenient time and will do all the cleaning for you. This way, you will have more free time for your dear friends and yourself without you having to sacrifice the condition of your property.
Our company is based in London and we have many years of professional experience in the deep cleaning field. Over the years we have deep cleaned a huge number of private homes. Our deep cleaning is also suitable for commercial premises. Whatever your cleaning needs are, we can meet them all. Our trained cleaners will work beyond your expectations and will leave no stone unturned. They are ready to clean your property as if it is their own. We operate in London and we can be booked all week round.
After two months of building works, there were huge amounts of construction dust and building leftovers in our house. My wife and the kids were impatient to move in and it was more than necessary to hire someone to make a deep overall cleaning. The neighbour was very satisfied with your services and advised me to book after builders cleaning. I didn't have time to check other possibilities and called your support centre right away. Your representative provided additional information about the service as well as a free quote. I discussed it with my wife and we decided to give it a shot. It was great that the cleaners arrived after 2 days on Saturday. The fellows were obviously very well trained and got to work right away. They were working with specialised cleaning equipment and managed to eliminate the building waste without ruining the work of the builders. They were prompt, thorough and professional. Arrived at 8 am and didn't stop cleaning until 4 pm. In the end, they asked if we are satisfied with the service. My wife was impressed with the standard of cleanliness and I – with your reasonable rates.
Hourly Based Services
One of Cleaning

from

£

20

/h

Domestic Cleaning

from

£

20

/h
Professional cleaning is necessary to maintain a healthy and disinfected home. Many times when we clean our own homes and properties we make many mistakes, big and small, that eventually reflect on the end result. If you would really want to experience a type of cleaning that makes a huge difference, you are more than welcome to have our Professional cleaning service give you a hand. All residents of London can schedule with us and achieve an end results of the highest standard, for we are trained specialists armed with efficient cleaning equipment and tools of all types.
We can make the harsh, stubborn stains disappear within minutes thanks to our long-time experience and dedication to what we do. The knowledge our cleaning technicians possess is more than enough to make even the hardest stains disappear almost entirely. None of our solutions and cleaning methods present any danger to you, your family or the environment. Despite their high efficiency, they are completely safe for use and have no chemical substances in their structure. The type of professional cleaning, only we can offer you, in London will have a huge positive effect on the items and areas designated for cleaning. Find out about all the amazing possibilities by giving us a call!
I am here to recommend the professional cleaning services of this company to anybody who is sick and tired of cleaning without reaching the desired levels of cleanliness. I know from experience that this company collaborates with true experts who are able to deal with any type of cleaning chore. No matter whether you need to them to lend you a hand with the end of tenancy cleaning or after builders cleaning, they are capable of working magic. I have been counting on them over two years already and they always leave me satisfied with the job done. Their cleaners are so competent and qualified to deliver effective cleaning sessions. Apparently, these guys are fully trained to professional standards.
I remember times when I did all the cleaning on my own but thanks to the economical rates of this company I decided to take advantage of their services and forget about cleaning. I love that they are flexible with appointments and are even available on weekends. What is even better, their cleaning sessions are quick and effective. The cleaners work very hard to make sure that everything is spotless and know how to deal with any issue in an instant. Thank to this professional cleaning service, I am able to enjoy my sparkling home without me having to sacrifice my time or energy.
I am so happy that I found out about this company and I do appreciate the fact that they are always there for me.
We are here to present to your attention the highest quality of the domestic cleaning service on the market in London right now! Our cleaning agency is very experienced in the cleaning area of business and is always ready to provide you with the best cleaning service! Our knowledgeable cleaners are highly motivated to show you what perfectly clean looks like! They possess the right qualities to clean any type of property in London for the amount of time the customer gives us, as in our domestic cleaning service! They use the best tools and every secret when cleaning, therefore are fully capable of even exceeding your expectations! With our domestic cleaning, you will get a thoroughly cleaned place in exchange of an affordable price! We can make sure everything looks perfectly clean and the interior is improved after our domestic cleaning is delivered!
If you choose to book us for the service, you will be positively surprised by the end results! Our teams at customer support are constantly ready to hear from you and give you any additional information about the domestic cleaning service of ours and will gladly answer any questions you might have! We are the secret to having perfectly clean and safe home, office, restaurant or garage environment!
If you are vacating a property in London, you will need extra pair of hands to do the final cleaning. Having collaborated with hundreds of tenants and landlords, we best know how to meet our customers' requirements. We also know how time-consuming and back-breaking the post lease cleaning can be for non-professionals. It is why we recommend you to book our professional move out cleaning service and let us do the cleaning for you. We promise to not let you down! What is even more, we guarantee that you will get to keep your security deposit in full!
We have set reasonable rates which will definitely work wonderfully for your budget. The best part is that you do not have to allot money for the cleaning equipment because we bring our own professional-grade products and tools. Our cleaners are trained to use them safely. To set up an appointment with us, contact us by phone and share with us your preferred time table. We can be booked all week round! Hundreds of customers from London have already chosen our move out cleaning service. Let us become your partner and we can help you, too!
Living in a splendid clean home is something we all desire, but sometimes cleaning and achieving the perfect end-cleaning results is quite the challenge considering there are stains and dirt spots whose removal require a more thorough and effective treatment.
If you are having troubles cleaning off the stubborn stains and dirt spots on your home's furniture, utilities and items, we offer you the easiest way out of the burdening house cleaning chores- by choosing our cleaning service as your personal cleaning assistant you will receive a treatment of high efficiency. We are the best house cleaning technicians in London and it would be our pleasure to make your property perfectly clean and safe for you and your family members to enjoy.
We achieve the high-end results we do due to our long time experience and vigorous training. Our cleaners have mastered all the necessary cleaning techniques and methods for safely removing the dirt and stains out of the designated for cleaning items. Customer satisfaction is our main priority and we will do our best to make sure you receive the type of cleaning you think is most appropriate and applicable to your house's cleaning requirements and your personal style.
I believe that housekeeping is not something which anyone can do and I am definitely one of those people who are struggling to maintain the good look of their homes. This is why I was searching for a professional help for quite some time and I finally found this cleaning company. I decided to hire their house cleaning service since their prices were quite reasonable.
The worker who came to my house was prepared with her own high-quality equipment and cleaning solutions. The final result was more than perfect and I was very satisfied with the house cleaning service which was provided. I noticed that the cleaner paid attention to details which seemed insignificant to others. The level of excellence of this service was definitely very high.
My house has never looked this good and it took almost no time for the cleaner to handle every dirty spot in my home. I liked the friendly attitude of the cleaning expert who asked me beforehand about my needs and requirements. I was very happy to see that there wasn't a single trace of dirt left behind in my house.
The company was very responsive and they didn't mind that I wanted to book their house cleaning service on the weekend. The fact that the cleaner was so fast with the cleaning session saved me a lot of time and I was able to enjoy every second of my weekend. No need to say that I was easily convinced to become one of the company's regular customers.
Pros of our services
End of tenancy cleaning:
The housekeepers who deliver the service are professional, trained and experienced
The housekeepers pay attention to every nook and cranny of the property
The housekeepers ensure that every speck of grime and bit of dust is removed
The end of tenancy cleaning service includes use of professional cleaning equipment
Often, the cleaning equipment is composed of nature responsible and safe cleaning products
Often, the cleaning equipment is included in the total sum of the service
Booking end of tenancy cleaning services is an investment
The security deposit is much more than the price of the service
Booking end of tenancy cleaning services ensures clean and cosy environment for future occupants of the property
Booking end of tenancy cleaning services makes name for tenants and represents them in a favourable light
Domestic cleaning:
The cleaners who perform the domestic cleaning have rich experience in the field
The cleaners do the cleaning more quickly
The cleaners do the cleaning in a more efficient manner
The cleaners bring their own cleaning supplies
The cleaning equipment is professional-grade, more powerful than the store-bought one
Most or all of the products are environmentally friendly and non-toxic
The cleaning products can be used around children and domestic pets without posing health risks
The domestic cleaning service is thorough and detailed
The domestic cleaning covers every room and area of a property
If booked for a regular maintenance, the price is even lower
Deep cleaning:
It is more detailed and thorough than the routine dusting and vacuuming
It is performed by background-checked, experienced and trained professionals
It is designed to cover every part of a property, regardless of its type or size
The cleaning includes removing of cobwebs, pesky stains, bad smells, smudges, dust, finger marks, etc.
The housekeepers do the cleaning more quickly than a non-professional
The housekeepers do the cleaning more proficiently
The deep cleaning service is worth the price
The equipment is provided by the company
The equipment is biodegradable and safe
The deep cleaning service gives peace of mind knowing that the place is healthy, sanitised and disinfected
Carpet cleaning:
The carpet cleaning session is done by expert technicians
These expert technicians have been properly trained and amassed the knowledge and skills necessary for an efficient cleaning session
The carpet cleaning ensures that bacteria, germs, dust mites, soil and other contaminants are removed from the carpet
A clean carpet does not pose health risks
A clean carpet makes the interior look more presentable and cosier
Regular booking of carpet cleaning service improves the indoor air quality
Regular booking of carpet cleaning service expands the lifespan of a carpet
Booking carpet cleaning service is investment
A non-professional cannot reach a high standard of cleanliness on their own
The cleaning products are environmentally friendly and do not damage the delicate fibres of the carpet
End of Tenancy Cleaning Prices
One Bedroom Flat

from

£

139

Two Bedroom Flat

from

£

165

Three Bedroom Flat

from

£

189
Steps To Book
1.Contact us
2.Get a free quote
3.Review and book
FAQ
How long does the End of Tenancy Cleaning usually take?
Our End of Tenancy Cleaning Service is not an hourly based service which means that we cannot tell how long the cleaning session will take. What we can provide as information is that the duration of the cleaning depends on a number of factors such as size and condition of the property. We will send the appropriate number of housekeepers to do the cleaning in a quicker and more efficient manner. They will stay as long as necessary to complete the cleaning.
Is the cleaning equipment included in the price?
For our customers' convenience, we provide the cleaning equipment and it is included in the total sum of the service. We assure you that all of the products are environmentally friendly and do not contain any harsh chemicals. The cleaning equipment is safe to use around children and pets.
Is your End of Tenancy Cleaning Service guaranteed?
Yes, our End of Tenancy Cleaning Service comes with a 48-hour guarantee. This means that in case you are not fully happy with the end result or there are missed areas which have to be cleaned, you must inform us no later than 48 hours after the completion of the job. In such case, we will deliver a re-clean, free of charge. The cleaning will be scheduled as soon as possible.
Do the cleaners need an access to running water and electricity in order to deliver the End of Tenancy Cleaning?
In order to provide an efficient cleaning session, our cleaners must have access to electricity and hot water.
Can I combine the End of Tenancy Cleaning Service with some other service?
Of course. Customers are given the chance to combine our End of Tenancy Cleaning Service with a number of other cleaning services, including Wall Cleaning, Oven Cleaning, Windows Cleaning, Carpet and Upholstery Cleaning, Gutter Cleaning, Jet Washing or Gardening Service.
Who will deliver the End of Tenancy Cleaning?
Our company employs only passionate, dedicated and qualified housekeepers. We assure you that all our cleaners are background-checked, fully trained and experienced in the field. They are focused to work hard in order to leave all parties of the tenancy agreement satisfied with the outcome. Our housekeepers never compromise on quality!