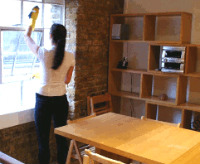 High quality and guaranteed end of tenancy cleaning services in New Cross, SE14 provided by Super End of Tenancy Cleaners London. Call us today!
Have you ever come across the term end of tenancy cleaning? Well, if you are a tenant, who's about to move out from his or her rented property, then you surely are aware of its meaning and how important it is for it to be performed in the right manner. And if you think you cannot handle this by yourself, then it is a good idea to turn to us. Our company has been providing its customers with first-class end of tenancy cleaning for years and we have everything needed to consider ourselves the best in the industry. Call us an let us make this burden, called moving out, a bit less tiresome.
End Of Tenancy Cleaning New Cross SE14
And here is an excerpt of the checklist they follow every time they perform the service:
Thorough care of both carpets and hard floors
Vacuuming of mattresses and upholstery
Washing of kitchen furniture and appliances inside and out; degreasing
De-liming of bathrooms and toilets
Removing of mould and mildew, cobwebs, stains and spots off walls
Washing and polishing of windows and other glass surfaces
Dusting and polishing of all pieces of furniture in living, dining, sleeping areas
We cover all addresses in New Cross SE14 as well as the rest of London.
End of Tenancy Cleaning Prices
One Bedroom Flat

from

£

139

Two Bedroom Flat

from

£

165

Three Bedroom Flat

from

£

189
Tasks included in our End of Tenancy Cleaning service
Kitchen cleaning tasks:
We all know how unpleasant cleaning a kitchen can be. This is because of the large accumulation of dirt and grime. Book our end of tenancy cleaning service and allow our professional cleaning experts to take care of everything. We provide them with efficient cleaning products and they follow detailed task lists that include all cleaning tasks. That way they will make sure that everything has been taken care of and no chores have been ignored. Here are some of the cleaning activities that will be performed as part of the end of tenancy cleaning service you book with our company:
Wiping of dust and cobwebs – the tops of cupboards, furniture, shelves, appliances and dusty surfaces throughout the kitchen will be wiped down.
Degreasing and scrubbing of surfaces – cooking surfaces such as countertops, tiled surfaces, stove tops, backsplashes and others will be carefully scrubbed and disinfected.
Organising and cleaning – kitchen cabinets, drawers and cupboards will be decluttered, cleaned inside and out and reorganised.
Washing and polishing – all cutlery, dishes, utensils and kitchenware will be washed, polished and neatly restocked in their designated drawers and cupboards.
Descaling and disinfecting – the kitchen sink and its taps will be descaled, scrubbed and disinfected. The drain will be unclogged and cleaned.
Hoovering – all carpets, rugs and upholstery in your kitchen will be thoroughly vacuumed.
Waste bin cleaning – all rubbish will be disposed of and your bins will be washed and thoroughly disinfected.
Thorough disinfection – door handles (of doors and cupboards), light switches, appliance buttons and other frequently touched items will be sanitised and left germ-free.
The kitchen at your property will be left immaculate, free of grease, grime, dust, buildup and other deposits. Everything will be in pristine condition.
Living room cleaning tasks:
Thorough cleaning and disinfection of all surfaces and areas of your living room will take place as part of the end of tenancy cleaning service you book with our company. Our cleaners will work hard to ensure that everything is left immaculate by the end of the service. Here are the chores they will perform at your property:
Dust and grime removal – include wiping down and dusting all furniture, shelves, table tops, walls, and ceilings in the room.
Cupboard organisation – cabinets, drawers, and other storage areas will be decluttered, wiped out, and reorganised.
Cleaning of wooden and glass surfaces – proper cleaning solutions will be used to wipe down and polish wooden and glass furniture, decorations, and surfaces. They will be cleaned and left spotless.
Vacuum cleaning – all upholstery and carpets throughout the living room will be thoroughly vacuumed.
Floor cleaning includes sweeping and mopping the whole floor of the living room.
Disinfection – complete disinfection of frequently handled objects (door handles and knobs, light switches, remote controls, and so on) will be performed at the end of the cleaning process.
Bathroom cleaning tasks:
The best team for your project will be assigned to you. The cleaners will pay extra attention to the cleaning of your bathroom since a lot of grime, deposits and other filth accumulate there. They will use special products to make sure the entire room is left in an immaculate condition. Here is a list of the chores that will take place in your bathroom:
Dusting, polishing and disinfection of surfaces – furniture,tops of cabinets, counters and other surfaces will be wiped down and cleaned.
Descaling – the sink and its taps will be scrubbed, descaled and disinfected. The toilet bowl and its seat will also be thoroughly cleaned.
Shower cleaning – the walls, doors and floor of your shower will be washed and disinfected. Faucets, shower heads and hoses will be cleaned as well. The drain of your shower will be unclogged and cleaned if needed.
Deposit removal – soap scum, limescale, mould and mildew will be completely removed from all areas of the bathroom using special solutions.
Organisation of cupboards – the medicine cabinets and drawers in your bathroom will be decluttered, cleaned inside and out and reorganised.
Waste disposal – all bathroom bins will be emptied, thoroughly cleaned and disinfected.
The entire bathroom floor will be vacuumed and mopped. All commonly touched items will be disinfected and no signs of filth, grime or deposits will be left behind in your bathroom.
Bedroom cleaning tasks:
The bedroom, where you sleep and spend the most of your personal time, also requires complete cleaning. Our cleaners will dust and disinfect everything, as well as perform a variety of other cleaning tasks. Below is a comprehensive list of all cleaning jobs that will be performed in your bedroom:
Surface polishing – cabinet tops, furniture, and various surfaces in the bedroom will be dusted and polished.
Cabinet organisation – storage units will be carefully organised after being decluttered, cleaned inside and out, and neatly organised.
Mirrors, framed art, and light fixtures will be thoroughly washed down and polished using the suitable materials.
Mattress cleaning – The mattress in your bedroom will be cleaned and disinfected from all sides.
Cleaning of floors – carpets will be vacuumed, and hardwood floors will be swept and mopped completely.
Disinfection of commonly touched things will occur, and the space will be neatly organised.
How much should you pay for end of tenancy cleaning

We worked hard to ensure the high quality of our services, however, we also paid attention to our prices. To keep them affordable and competitive, we created a special pricing system that allows us to charge each of our customers fairly. Whenever you book an end of tenancy cleaning service with us, you will be provided with a free quote over the phone. The price you receive will be estimated based on the size and condition of your property, as well as the number of tasks that will take place there. You may rest assured that the quoted price will be final and that no additional charges will be placed on your bill.
End of Tenancy Cleaning

from

£

89

Carpet and Sofa Cleaning

from

£

55

Regular Cleaning

from

£

19

/h
London areas where we provide our service
I had never used cleaning services before and a few days ago I ordered your end of tenancy cleaning options. You are amazing and I'm happy I chose your service. – Sean
Super End Of Tenancy Cleaners in New Cross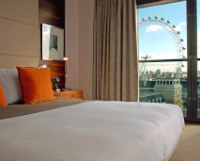 We have always strived for an impeccable reputation and we are proud to say that we have managed to maintain it for years. In order to do this, we are particularly choosy, when it comes to hiring cleaners. We only accept people with excellent recommendations from previous employers. Moreover, we insist on them having the necessary qualifications and experience. And last but not least, we thoroughly check them, for we only want people with immaculately clean criminal record.
As you can imagine, end of tenancy cleaning might be extremely demanding. Our employees, however, are so well-organised that they will carry it out quickly and effectively.
We guarantee that our end of tenancy cleaning in New Cross is the most comprehensive one, offered anywhere in the city. We have equipped and supplied our cleaners with excellent, eco-friendly apparatuses and detergents, so as to make sure that our customers and their landlords will be pleased with their performance.
Book with us now and let us help you! In order to do that, you only need to contact our customer support centre and tell our consultants that you are interested in our end of tenancy cleaning. You will be given full details about the service and they will lead you through the quick booking procedure. We accept appointments for any day and any time of the day. What is more, we cover New Cross SE14 as well as the rest of the areas within London.

FAQ
When is the best time to book your end of tenancy cleaning service?

We are able to provide our service 7 days a week! However it is preferable the service to be arranged at least few days in prior to the service date. A general requirement is the property to be empty of personal belongings on the day of the clean.

Are the cleaning materials and equipment included in the service?

Yes. The End of Tenancy cleaning is a full service and all the needed equipment, detergents and cleaning products are included in the final price.

Is your end of tenancy cleaning service guaranteed?

Yes. If you experience any issues, our professional team will come and reclean the property in the next 48 hours upon completion.

Do I have to be present during the whole procedure?

No, but you are welcome to stay and observe. We will need someone to provide access to the property, though.